Page 4 of 10
Introduction to the Word
Can a locked door keep the Holy Spirit from releasing us from our fears?
Can a quaking spirit keep us from receiving God's gifts today?
Can the Church be born again … turning its back on inertia and indifference?
Does the story of Pentecost have anything to say to us today?
Listen for the word of God.
Reading John 20: 19 – 23
Read by Charlie Barker. Click here to read text online (biblegateway.com, will open in new browser tab)
Act of Awareness
In all our living, may we be freed to see things afresh, to be more fully alive, and have the courage to keep faith in the future of humanity.
Prayer of Yearning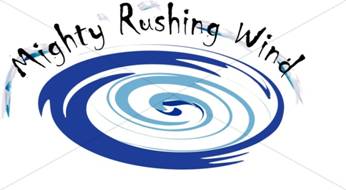 Spirit of wind and flame, blow open the doors we erect to keep ourselves sealed off from your world.
We long to be set free from the fears that jail us and to be released from chains that bind us.
We yearn to draw near to your source of living water, and to drink deeply from its well.
We want to be cleansed in your holy fire, and to be driven into the streets by your winds of grace.
Come to us, and heal us once more, Mighty Spirit, that we may embrace your gifts in service to a world in need.
Amen
Words of Assurance
When God breathes the Holy Spirit into our lives, the earth is renewed.
When God blesses us with gifts in this same Spirit, we too are renewed and made whole.
Rejoice, sisters and brothers, God's steadfast love endures forever.
Acknowledgment: The Abingdon Worship Annual 2020
Reading Acts 2: 1 – 21
Read by Maia Jeanne Faulkner, from Good News Bible. Click here to read text online (biblegateway.com, will open in new browser tab)
Response to the Word
With the gifts of the Holy Spirit, may our hearts overflow with living water on this day of Pentecost, and on very day in our lives.